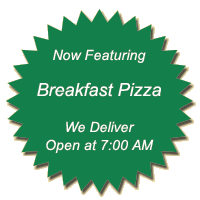 Welcome to Franco's Pizzeria and Deli, where we serve more than just pizza! We have a great selection of meals, including pastas, chicken and more, made from only the freshest and highest quality ingredients, with something sure to please every member of your group. Our prices are the best in Syracuse, and the food's even better. Come in today and feed your appetite! Call us for you next event, whether it's a graduation party, religious event, corporate function, office party or a family gathering let us cater your next event.

Franco's Pizzeria and Deli is located within blocks of Syracuse University, Carrier Dome, and along the Connective Corridor. Also within walking distance of The Crowne Plaza Syracuse, The Genesee Grande, The Parkview Hotel, The Skyler Hotel Syracuse, & The Sheraton Syracuse University Hotel.

For more information e-mail us at www.francospizzeria901@yahoo.com.

Daily Lunch Specials
Monday - Friday 10am - 3pm. Pick up only.
Served with garlic knots and fountain soda
MONDAY
Stuffed Shells
THURSDAY
Baked Ziti with Meatballs or Chicken Parmesan Served Over Ziti
TUESDAY
Chicken Riggies or Chicken deluxe sandwich, wedges and medium fountain soda
FRIDAY
Fried Haddock Dinner, French fries, Coleslaw, Garlic Knots not included or BBQ chicken, macaroni and cheese and medium fountain drink
WEDNESDAY
Meatloaf, Mashed Potato and Gravy
 

DELIVERY To University & Surrounding Area, North, South, East & West sides of the city, Carrier Circle, Eastwood, Lyncourt & Solvay til 3 am daily.

FAST, FREE DELIVERY
Up to 1.5 Miles
$15 Delivery Minimum

 

OCMP

ATM on premises.
House accounts available to established businesses.