Catering Menu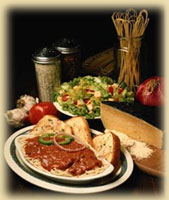 Listed below are just a few of our daily menu items that are available. Choose from our menu items or create your own. Please check our main menu or call us at 315-475-1100 and ask to speak with Randy with any questions or suggestions.
Appetizers
Mini Sandwiches
Served with mini rolls, your choice of meat and cheese with lettuce, tomatoes and mayo

Cheese & Cracker Tray


Cheddar, Monterrey, Jack & Jalepeño cheese.

Vegetable Tray


A selection of fresh vegetables served with dip.

Fresh Fruit Tray


Juicy pieces of watermelon, cantaloupe, grapes, pineapple, strawberries, & honeydew.

 Stuffed Mushrooms
Jumbo Shrimp Cocktail


Jumbo shrimp served with cocktail sauce.

Stuffed Garlic Knots


Served with marinara sauce.







Deli Meat Tray


Prepared with roast beef, turkey, ham and an assortment of cheese, also included condiments

Assorted Wrap Tray
3-Foot & 6-Foot Subs


Choice of meats and cheeses with lettuce, tomato, mayo and condiments
Grilled Chicken


Marinated in onions and peppers

Sausage, Onions and Peppers
Baked Chicken
Chicken and Broccoli Alfredo


With Ziti

Chicken Riggis
Eggplant Parmesan


With Ziti

Chicken Parmesan

With Ziti

Roast Beef
Baked Ham
Vegetable Lasagna
Meat Lasagna
Alfredo Lasagna
Chicken Cordon Bleu
Ziti with Garlic and Broccoli
Meatloaf
Meatballs and Sausage in Sauce
Chicken Cacciatore
Chicken Marsala
Stuffed Chicken with Spinach & Ricotta or Feta Cheese
Homemade Cake


Chocolate or yellow cake with chocolate frosting

Chocolate Chip Cookies
Brownies
Cheesecake
Cannoli


Ricotta filling



All packages price per person, minimum 10 people
1. Chicken Parmesan, Baked Ziti, Chef Salad, Garlic Knots
2. Chicken & Broccoli Alfredo, Chef Salad, Garlic Knots
3. Baked Chicken, Mashed Potatoes, Chef Salad, Garlic Knots
4. Wrap Trays, Pasta, Macaroni or Potato Salad, Chips
5. Baked Ziti, Meatballs or Sausage, Garlic Knots
6. BBQ Chicken, Pasta Salad, Macaroni Salad or Macaroni and Cheese, Chef Salad
7. Lasagna, Chef Salad, Garlic Knots
Add Dessert for $2 per person
2 Liter Coke Product $3.50